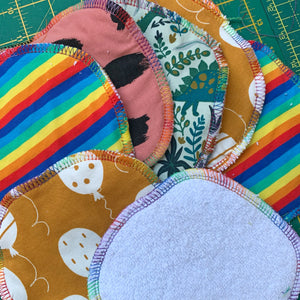 Biddy and Bear
Washable wipes
Regular price
£6.00
£0.00
Unit price
per
Tax included.
Shipping
calculated at checkout.
These reusable cloth wipes have made post meal clean up so much easier in our house. The fun prints are jolly and can allow kids to choose their wipe, and the reverse layer is soft washable terry. They make a lovely gift for a new baby, perhaps alongside a pair of harems, As they're great for milky dribbles (and the inexplicable palm fluff babies seem to accumulate) and we know weaning does come around so quickly. They're great for all ages - we use them at the table for all our children, so not just for babies. 


Wipes are 5.5 inches square-ish with rounded corners  as they're cut from scraps, they are not entirely uniform in shape. Sisters, rather than twins, shall we say. The backing is a soft and absorbent white towelling. 


Mixed sets are always available, these are totally random so do leave a note at checkout if you'd like me to try include animals/florals/vehicles etc and I'll do my best. 
These wipes are washable at 30 degrees and line dried for best results. Washing them at hotter temperatures won't do any structural damage, but the print may fade quicker and the print side lose its stretch in time. 
---
Share this Product
A lovely baby gift.
A lovely gift for a friend who recently had a baby!
great for a teen too!
These washable cloths are great my teen daughter likes to give her face a good wash every morning with these and they just go back in the laundry basket, much more echo friendly and softer than the disposable facial wipes you can buy I'm about to buy a second set , but the ladt set has lasted a long time , hot washed st times, no frays, and are still going but we just need more because she uses more.
The BEST wipes!
These are the best wipes for mucky hands and faces after mealtimes, and also wiping the table after baby has smeared his food everywhere. We had been using branded wipes before but these are doing a far better job. Also my toddler loves getting to choose which pattern wipe she wants! Even my husband has commented how much better they are.
---